Ensuring Your Child Gets the Nutrition Needed
Knowing what goes into a product is a key part of deciding whether to give it to your child. That's why we clearly spell out every ingredient and outcome associated with our products. We know it's important information, and we stand by every formula we offer. Don't be left without options – whether it be a lower price or higher quality of ingredients! Purchase a Cambrooke formula and you'll know exactly what you're getting.
An Amino Acid Formula that May be More Gentle on the Digestive System
Finding that perfect formula that soothes your child's digestive condition can be a long and difficult process. While some illnesses can be addressed through common allergen-free products, others require a milder touch. Because our products are delicately formulated to be gentle on the GI tract while providing complete nutrition, Cambrooke formulas can be counted on to help with an array of gastrointestinal conditions.
How an Amino Acid Formula Can Help Benefit Your Child
Giving any food product to a child with allergies can feel like a gamble for concerned parents. Amino acid-based formulas allow you to avoid those unwanted or dangerous food proteins because they do not contain any whole proteins at all. Instead, they provide your child with pure amino acids – the building blocks of protein (see chart) – so his/her body has everything needed to thrive without the risk of exposure to allergens or proteins that may cause gastrointestinal irritation. Talk to your child's doctor and ask about how amino acid-based formulas can put an end to mealtime stress.
How it Works
Standard pediatric formulas most commonly use whole proteins from milk or soy as their protein source. Partially hydrolyzed formulas use partially broken down proteins as their protein source. While these formulas may be tolerated by some, they are still capable of causing an allergic reaction. We developed formulas with AjiPure® amino acids to provide the lowest risk of allergic reaction and to be more easily absorbed than standard formulas.
Ajinomoto's AjiPure® pharmaceutical-grade amino acids are the gold standard in amino acid technology. They are the world's highest purity naturally fermented amino acids. AjiPure® amino acids are non-GMO and never animal tested.
Insurance Reimbursement
CAMBROOKEcare has a dedicated team to support your efforts to obtain insurance reimbursement coverage. We provide the expanded reimbursement and coverage assistance you need today. This is a full service program designed for one very important goal: helping you to manage your family's medical food coverage and reimbursement options.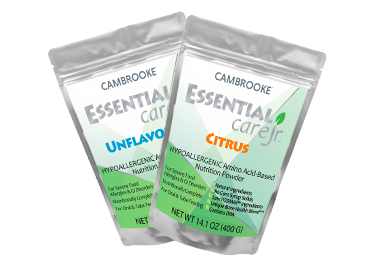 What Makes Our Formulas Special
Finding healthy, wholesome nutrition for a child with severe allergies shouldn't be hard. By offering products with broad nutritional value at affordable prices, we make it easier to provide for your child's dietary needs without risking exposure to harmful allergens. Try one of our products today and see for yourself how they may improve your child's quality of life.