Steps to Take if You Suspect Your Child Has a Food/Milk Allergy or GI Disorder
If you suspect your child might have a milk allergy, food allergy or gastrointestinal disorder, then this video may be helpful for optimizing communication with your healthcare provider about your child's symptoms.
If your child is experiencing symptoms that don't seem to be going away, the first step is to schedule an appointment with your pediatrician. After hearing about your child's symptoms, the pediatrician may refer you to an allergist or gastroenterologist in cases where food allergy or gastrointestinal disorders are suspected.
In preparation for this appointment, it can be helpful to track and record your child's symptoms so that you are prepared for the questions that may come up at the doctor's visit.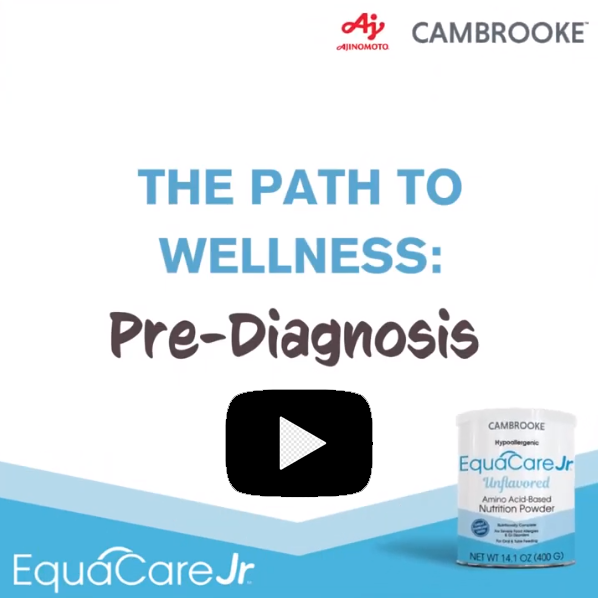 What Information to Record:
Start by making a list of all the ongoing symptoms that your child is experiencing. These may include things such as rash, abdominal pain, reflux, vomiting, constipation, diarrhea, poor growth, weight loss or even food refusal.
You also will want to note whether the symptoms occur after eating, and if so, list what food or foods you suspect to be causing the symptoms. It can be helpful to document symptoms on a calendar and record time of day to help identify a pattern.
Foods that are common allergens include milk, egg, wheat, soy, peanut/tree nuts, fish/shellfish and sesame.

These are required to be listed on food labels (except sesame) and it may be helpful to read the label and look for these foods when trying to identify a possible allergy trigger. You can even save labels or write down the brand and name of the food product of concern to review with your healthcare team at a later time.

If you believe symptoms are related to foods, it is important to record the timing of when the suspected food is eaten and how long the symptoms occur after eating the suspected food. You also should try to track the frequency of the symptoms and roughly how long the symptoms last.
Your doctor will also want to know if your child has ever eaten the suspected food without experiencing symptoms.
If food allergy is suspected, recording these things may be helpful in finding the cause for your child's symptoms: the last day and time that a reaction or symptoms occurred; how the suspected food was prepared; the restaurant, or the brand of the food product; what you did to treat the reaction and if the treatment was effective.
Once you have a good record of your child's symptoms, bring it with you to the appointment with your healthcare professional.
And if your child is diagnosed with a milk allergy, food allergic disorder or gastrointestinal disorder, please order samples of our amino acid-based formulas
When an Amino Acid-Based Formula is Recommended
At Cambrooke, we want you to have improved options for your child's amino acid-based formula. EquaCare Jr. offers the same great nutrition and taste as other popular amino acid formulas but at a much lower cost. For more information, please call 1-833-377-2773.
You may also want to learn more about allergic reactions and gastrointestinal disorders by checking out our previous blog posts – see links below.
Related Content: